Woot! Just got an email from Nic that our custom black ceiling tiles h
ave arrived and will be delivered next saturday. In honour of this milestone, I'm posting an update on the DIY home theater she and I have been building in our home.
-enjoy!

*Apologies in advance for the dusty camera lens in some shots.
Room Size:

20'wide by 18' long (odd shaped room - see floor plan below)


Equipment List:


Optoma HD70 720p DLP Front Projector.
Yamaha HTR-6060 7.1 HDMI Receiver with 2 HDMI Inputs
Sony DVDS43k Upconverting DVD Player
Motorola 6280 HD PVR.


Speakers:
on loan. Aiming for Axiom Epic Midi or Epic Grand Master HT Package in the next 2 or 3 months.

The builder insulated and framed the exterior walls, and roughed in plumbing for a full-bath (that would become my wet-bar area). My wife Nic and I decided that 4 bathrooms in the house were just too, and that 3 should be sufficient. We roughed in some electrical, built some partition walls, and hung and mudded the drywall over the course of the first 5 months of the build (Weekend warriors with not enough enthusiasm for mudding and taping I'm afraid.)

We determined early on that we wanted 2 rows of seating.


Floor Plan:
Here is a rough layout of the basement footprint with some sketched in partition walls and measurements.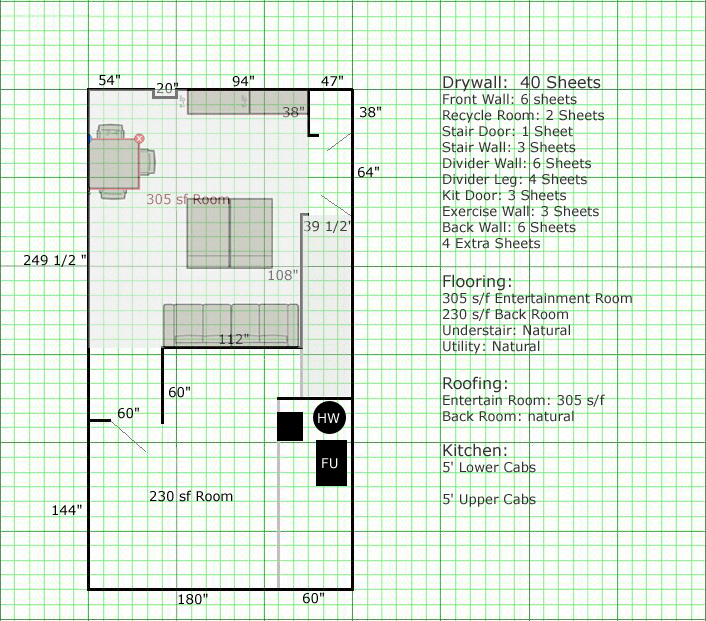 Once all the carpet was down, and the baseboards installed, we could work on some finishing touches to the room. We did hook up the projector which is being projected onto a home-made screen. (Blackout fabric stretched over 1x4 fir frame. No paint) 103" Diagonal.


2 Rows:
The 2 rows of seating worked out really well. Here you see our 4 seater sofa and 2 captains chairs providing comfortable seating for 6 people.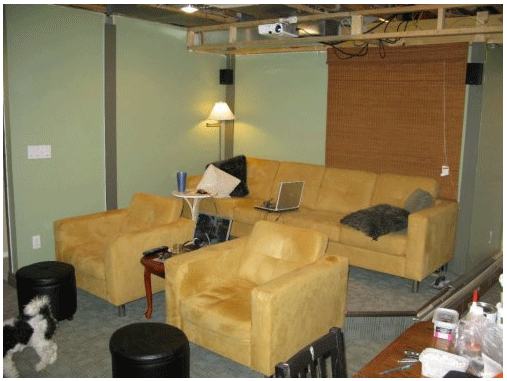 Storage:
Here is some built-in storage for movies, games, manuals etc...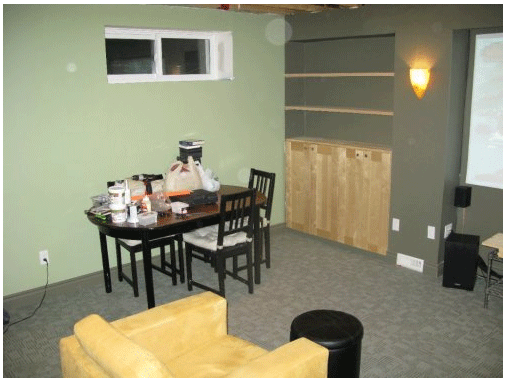 Bar:
Here is the wet-bar "in progress". We still have to hang the upper cabinet (below the soffit) and some bottle shelves into the corner. We're pretty happy with how it's turning out.


Screen Wall:
Here is a view of the screen wall from the Bar area. The closed door leads to our electrical panel/recycling closet. The open door (just see the edge of it) leads to the stairs up.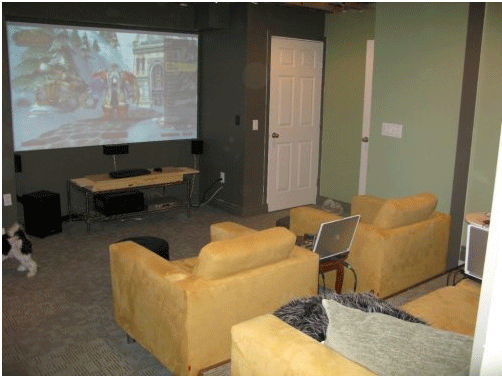 Because we realized a lot of saving through 'sweat equity' by doing most of the work ourselves, we managed to keep the budget for this room very tight. I don't have a fully detailed materials budget, but so far we're at ~$8700 of our $12000 budget (Figure another $1800 for the Axiom speakers we want and a few dollars for finishing touches and we should be right on the money at the end of the reno in May '08.